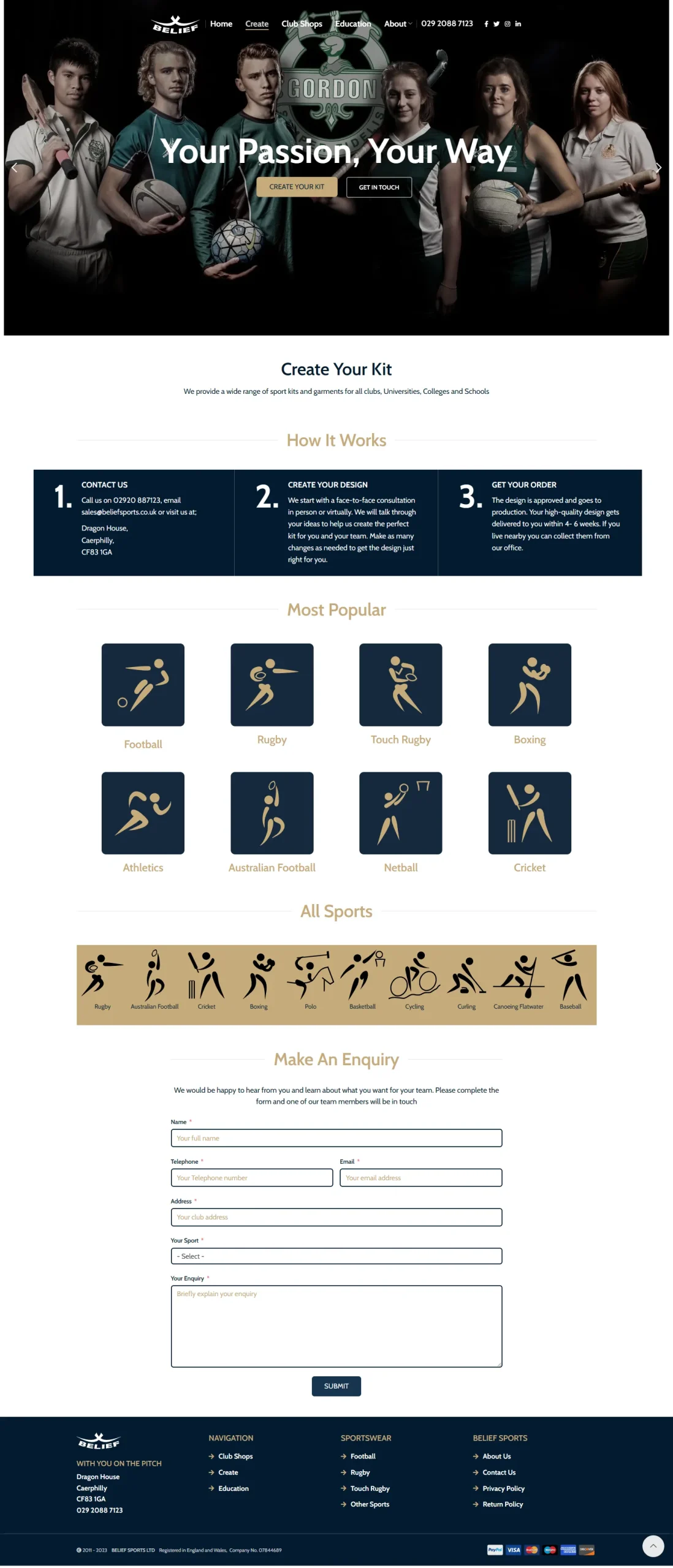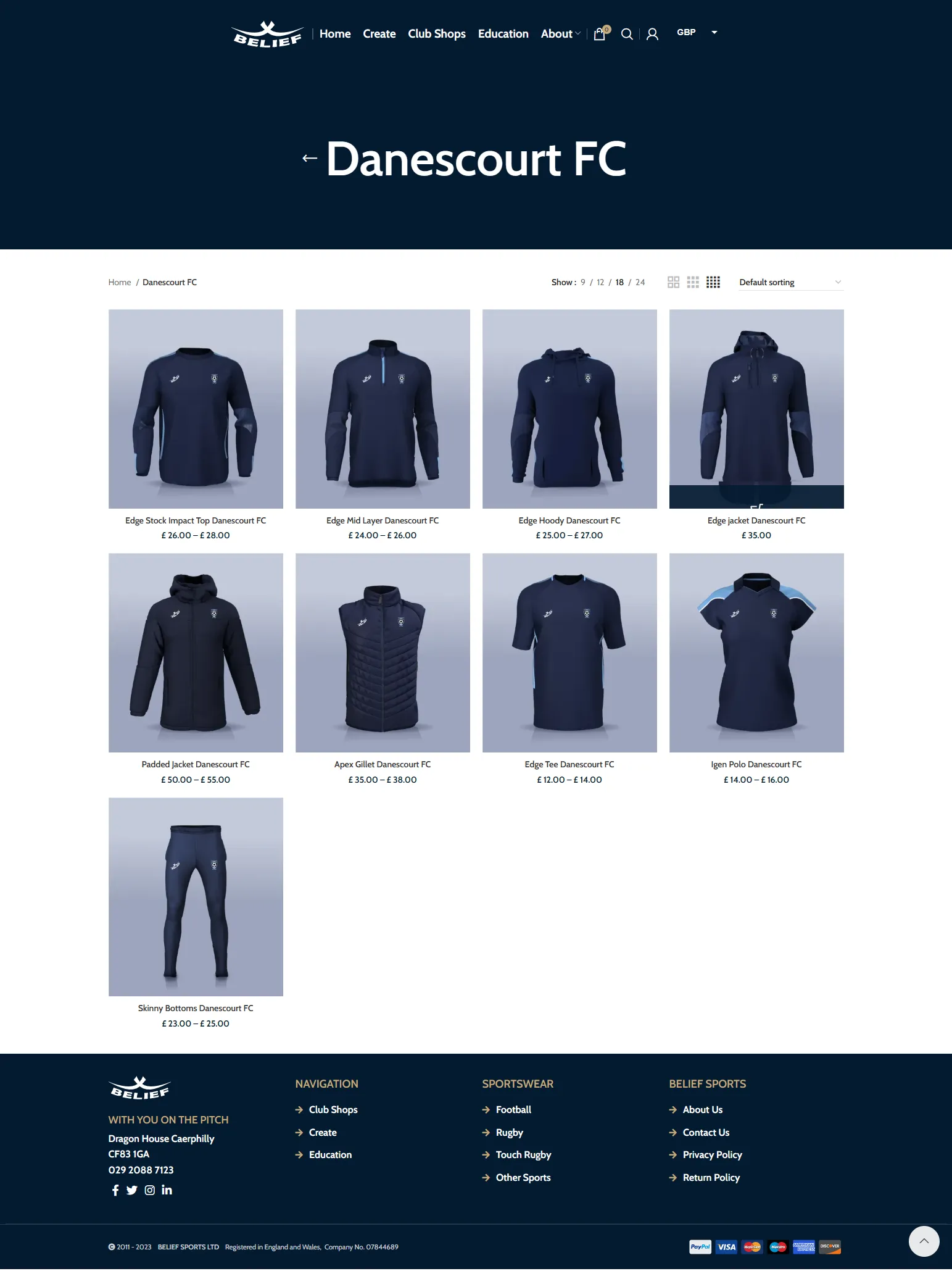 Belief Sports
Comprehensive Website Transformation and Enhanced E-commerce Solutions
The Brief:
For over 15 years, Belief Sports has stood as a benchmark of quality, durability, and design in the world of sports clothing and fashion. As a proud Welsh business, they specialise in delivering high-quality sports uniforms and stylish sportswear using cutting-edge manufacturing technology. Catering to clubs, sporting groups, professional athletes, schools, and universities, their mission is to provide premium, comfortable sportswear. However, an ailing online presence marred their success. Buggy websites, technical hiccups, and a fractured user experience resulted in the loss of valued customers. The management of their websites by a budget agency abroad, which struggled with technical problems and communication, only exacerbated their challenges.
Belief Sports turned to us for a comprehensive transformation, one that would unite their digital landscape. The challenge lay not just in rejuvenating their main site but in developing a comprehensive solution that encompassed club websites, a Kit designer App, and individual e-commerce. With over 50 websites burdened with incorrect information and backend chaos, their plight was further compounded by domain and email woes.
Our Approach:
Our journey began with a meticulous exploration of their existing digital terrain. Every operation, from the sales process to logistics, was scrutinised. Meetings with Belief Sports' staff and key employees allowed us to immerse ourselves in their business model and customer journey. This understanding formed the foundation upon which our solutions would rest.
Our Solutions:
Distinct Brand Identity: An appealing online presence took shape, fortified by a unique and resonant brand identity. This laid the groundwork for a successful website, capturing attention and inspiring trust.
Unified Platform with Multi-Site Approach: The complexity of managing over 50 websites was streamlined into a cohesive platform, adopting multi-site technology. One backend now governed all, creating an elevated user experience.
Effective Main Website: Through a design that caters to user needs, the core services of Belief Sports were conveyed seamlessly, ensuring clarity and engagement.
Intuitive Kit Designer App: Visitors were empowered to personalise sport uniforms with ease through an intuitive app. Choosing from pre-made design collections, they could customise colours, add logos, names, and numbers.
Robust Online Marketplace: The creation of an online marketplace facilitated B2B transactions, providing clubs, schools, and universities a platform to vend customised products to individuals (B2C).
Individual E-commerce Hub: A dedicated space for non-customised sportswear catered to individual customers, offering ease and direct accessibility.
Flexible Backend Management: A versatile backend streamlined the management of offers, packs, custom options, logistics, and deliveries, prioritising user-friendly administration.
Integrated CRM for Efficiency: Integration of customer relationship management (CRM) elevated order management and customer support, enhancing operational efficiency.
Secure Online Payments: Advanced technology ensured secure online payments, nurturing customer trust and fostering a seamless order process.
Scalable and Secure Hosting Solution: Understanding the need for stability and scalability, we collaborated with a high-quality hosting partner to deploy a dedicated server. This not only allowed for scalability but also bolstered platform security with robust layers and automatic backup systems.
Results:
The fruits of this comprehensive transformation were palpable. Belief Sports, once hindered by cumbersome websites and chaotic operations, emerged as a reinvigorated brand. Their digital presence evolved into a gateway of excellence, embodying their ethos of quality, durability, and design in every interaction. The complexities of their multi-website landscape had been simplified, leading to a streamlined and efficient user experience. Their domain and email issues were resolved, ensuring uninterrupted communication. Belief Sports stood transformed, their online identity now matching the excellence they deliver in sportswear. A lasting relationship blossomed as we took charge of overseeing both their platform and their secure server, safeguarding their digital presence and fostering trust.
Strategy

Brand Strategy, UX Strategy

Design

Web App, Marketplace, E-commerce

Client

Belief Sports
Open Project